alternaVites Kids is the revolutionary melt-in-your-mouth vitamin powder, which proves to be a great fuss-free way to help support your child's unique nutritional needs. Available in both multivitamin and single-ingredient formulas, alternaVites Kids is designed with both you and your child in mind. Learn more about these innovative and nutritionally sound products below!
As we all know, finding kid-friendly nutritionally sound multivitamins and supplements that aren't loaded up with sugar or unnecessary additives is a MAJOR task. Thanks to Rich Vitamins' expanding line of alternaVites Kids products, you may now banish from your home gritty chewables and gooey gummies that are high in sugar, low in nutrients, and can stick to teeth.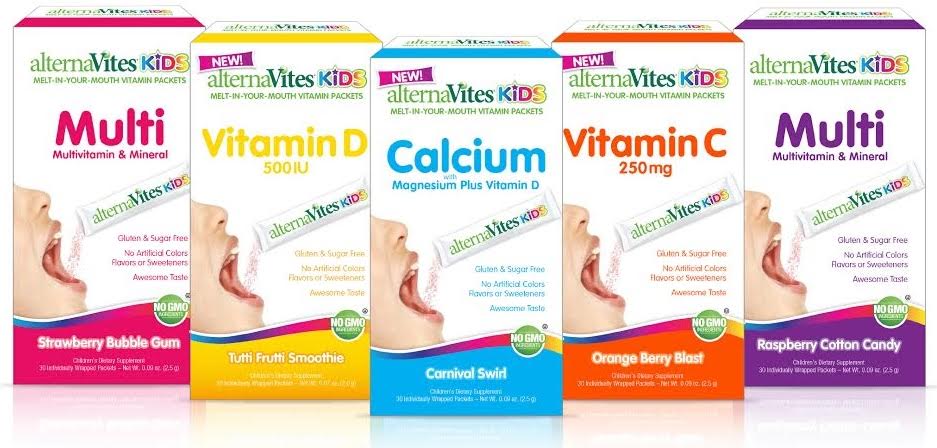 How do kids take alternaVites Kids? The quick melting powder can be sprinkled on the tongue where it dissolves fast. alternaVites Kids can also be mixed into foods or drinks— like smoothies, yogurts, cereals, apple sauce, puddings, or shakes. (With or without your kids knowing… perfect for even the pickiest eaters.)
Let's check out the full line of alternaVites Kids formulas and how they meet the specific needs of your youngsters!
Kids Multivitamin & Mineral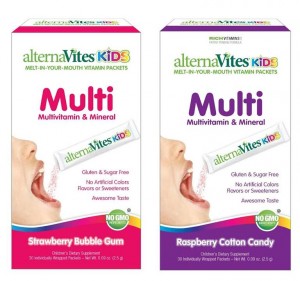 This exclusive formula touts 17 essential vitamins and minerals specially tailored to children ages 4+. This kid-friendly gluten-free formula comes in two yummy flavors, strawberry bubble gum and raspberry cotton candy. alternaVites Kids contains ZERO grams of sugar and no artificial sweeteners, colors, flavors, or preservatives. In addition, it does not contain animal products or by-products, egg, milk, peanut, tree nuts, wheat, soy, fish or shellfish and is also certified kosher pareve!
Kids Vitamin D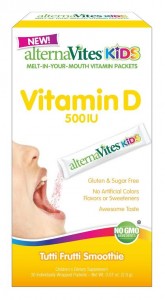 Vitamin D is incredibly important since it supports strong bones, teeth, and immune function. This key vitamin also aids the body in properly absorbing calcium. It is known as "the sunshine vitamin" because our bodies produce vitamin D naturally through direct exposure to sunlight. Since many of us are now limiting sun exposure and Vitamin D can be hard to get from diet alone, alternaVites Kids Vitamin D can be a great source.
Specially formulated for children 4+, this product contains 500IU in a delightful Tutti Frutti Smoothie flavor. This formula is also very unique as it is free of all animal products or by-products making it one of the only Vitamin D products that is suitable for both vegetarians and vegans alike.
Kids Vitamin C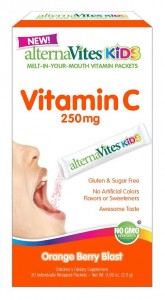 Vitamin C is an essential vitamin and antioxidant that helps provide immunity support, which is very important for growing and developing children. Since this nutrient cannot be made by our bodies, it is important to get it from our diets. If gaps still exist, as an added insurance policy, alternaVites Kids Vitamin C contains 250 milligrams and is specially formulated for children ages 4+. A zesty natural orange berry flavor is sure to please your little ones— even kids with the most selective of palates.
Kids Calcium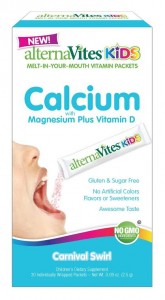 Calcium is incredibly important for boosting the development of strong bones and teeth in children and adolescents. alternaVites Kids Calcium is a wonderful way to supplement your child's diet. This formula not only contains 200mg of Calcium, but it also includes 500IU of Vitamin D and 100mg of Magnesium. Together, these nutrients can work to help promote optimal absorption. Specifically formulated for children ages 4+, the scrumptious Carnival Swirl taste made from natural flavors will have your child excited about something that is both nutritious and delicious.
Finally, a variety of kid-friendly products that doesn't come with a battle of wills or a huge helping of "parental guilt." With alternaVites Kids, parents have a smart option to ensure their kids are getting a daily dose of vital nutrients!
Can I purchase these items online?
Yes, you can! Click the button below to buy directly from the official alternaVites online store. To save $2, enter code "save2bucks."
Where else can I find alternaVites Kids products?
In addition to independent health food stores nationwide, use the 'Store Locator' button below to quickly find in-store retailers near you!
Get Your $2 OFF Coupon!
Want to give alternaVites Kids a try? The alternaVites folks are generously providing a $2 OFF Coupon while supplies last! Simply click the coupon image below to print the in-store only coupon!