Finding a high quality children's multivitamin without sugar or unnecessary additives can be difficult and overwhelming. Good news, you can now avoid giving your children chalky chewables or gummies that are high in sugar, low in nutrients, and can stick to their teeth. Rich Vitamins has developed alternaVites Kids – an innovative quick-melting children's multivitamin & mineral available in two fabulous flavors! Learn how to get a free sample below!
Finally, a kid-approved complete children's multivitamin without sugar, high fructose corn syrup, gluten, aspartame, or other additives! The fine crystal powder melts quickly on the tongue with no unpleasant aftertaste!
What Makes alternaVites Kids Different? 
alternaVites Kids contains 17 essential vitamins and minerals specially formulated for children ages 4+. This kid-friendly gluten-free formula comes in two great flavors, strawberry bubblegum and raspberry cotton candy. alternaVites Kids contains 0 grams of sugar and no artificial sweeteners, colors, flavors or preservatives. In addition, it does not contain animal products or by-products, egg, milk, peanut, tree nuts, wheat, soy, fish or shellfish and is also certified kosher pareve!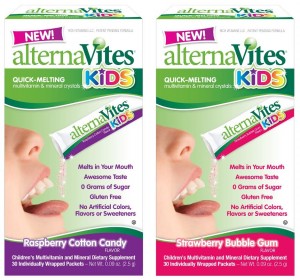 Our favorite way to administer alternaVites Kids is to simply sprinkle the crystal powder slowly onto the tongue, where it melts quickly.  However, you can also mix it into yogurts, puddings or smoothies, sprinkle it on top of fruit, lick it off a spoon – or be creative! The options are endless.
With alternaVites Kids, parents have a family-friendly option to ensure their kids are getting a daily dose of vital nutrients!
Get Your Free Sample! 
Want to try alternaVites Kids out? alternaVites is generously providing free samples while supplies last! To order a free sample, simply click the link below and complete the form!
What the Experts are Saying! 

"As a registered dietitian, I know how important it is for children to take a daily multivitamin, but as a mom, I know how hard it is to find one that I'm comfortable with and that they don't mind taking. With alternaVites Kids, we're all happy! I know they are getting a comprehensive formula, and kids find it delicious and easy to take." – Ilyse Schapiro, MS, RD, CDN

"My son is on the spectrum. He has a very limited diet and is very sensitive to tastes and textures. This is the first vitamin supplement we've found that he'll take. We mix it with yogurt, and he doesn't even notice. And unlike those gummy things, the alternaVites for Kids doesn't wreak havoc with the caps on his teeth." – Darcy, Mom 

"As a pediatric dentist, I see firsthand the damage that sugar can do to children's teeth. It's hard to hear that my patients take sugary vitamins or gummy vitamins that stick to their teeth, because these can contribute to tooth decay. With alternaVites Kids, there is finally a product that is nutritionally sound, sugarless, and won't get stuck in between their teeth. Even better, it's sweetened with Xylitol, which as a dentist, makes me happy!" – Dr. Sean Adler

Simple Tips for Maintaining a Healthy Smile! 

Dr. Mary Tierney, DDS is an expert in pediatric dentistry and provides some helpful insight into keeping your child's smile bright and cavity-free!

Common Habits That Can Negatively Impact Your Children's Teeth

While gummy vitamins may taste great, they are not great for your children's teeth.  Anything of a gummy retentive texture tends to sticks to (and linger) in the grooves and crevices of the teeth and in between the teeth, which can promote cavities.
Juices:  Most parents know to limit sodas for their children, but juices can be a poor choice too, as most tend to be high in sugar (which can lead to tooth decay).  So can sports drinks or any other beverage with added sugar or citric acid flavorings.

Good alternative: Tap water (or if your tap doesn't contain fluoride, then fluoridated water or a fluoride supplement) … be careful of excessive bottled water as it doesn't contain fluoride
If you still choose to serve juice, stick with juices that state 100% juice on the label with no added sugars.  Serve diluted with water to cut down on sugar content (it's economical too!)  Try not to give them more than one serving a day, to be consumed in one sitting, preferably with a meal.

Snacking.  As the ADA states, foods that are eaten as part of a meal cause less harm than in-between snacks.  This is because more saliva is released during a meal than during a quick snack, which better helps wash foods from the mouth and helps lessen the effects of acids on the teeth.

Good alternative: During snack time, try to give your children cheese, raw veggies, plain yogurt, or a piece of fruit

Dried Fruit and Granola Bars – These types of snacks are sticky and can linger between a child's teeth long after the snack is consumed.  Same with chewy candies. Since it is harder for saliva to reach in between teeth to act as a natural neutralizer, this can lead to calcium loss and tooth damage.

Good alternative:  fresh fruit,  apple sauce, snacks that go down quickly.  If kids are craving sweets and want a special treat, go for a candy bar or chocolate treats since those aren't sticky and don't linger in their mouth, or try xylitol lollipops.  Always follow with water.

Brushing Your Teeth too Soon After a Meal.  It's best to wait an hour after a meal before brushing. Meals and snacks leave an acid coating on the teeth, especially citrus fruits or soft drinks (especially lemonade) –If you brush too soon, you are just brushing your teeth with the acid, which can lead to tooth erosion.

Good alternative: just rinse your mouth with tap water after eating or drinking. Drink acidic drinks through a straw, which limits the amount of contact the liquid has directly with the teeth.

Where can I find alternaVites Kids? 

In addition to independent health food stores nationwide, alternaVites Kids is available at these fine in-store and online retailers!:

Walgreens.com    VitaminShoppe.com    Koshervitamins.com   SwansonVitamins.com   LuckyVitamins.com    Vitacost.com    Drugstore.com    iHerb.com4   AllVitamins.com    eVitamins.com     opensky.com