Finding a nutritionally dense multivitamin without sugar or unnecessary additives that kids ACTUALLY WANT to take can be quite the battle! Thanks to Rich Vitamins' latest product, you may now banish gritty chewables and gooey gummies that are high in sugar, low in nutrients, and can stick to their teeth from your cupboards. alternaVites Kids is an innovative quick-melting children's multivitamin & mineral available in two kid-approved flavors!
Please your child's selective palate and ease your nutrient-conscious mind with a kid-approved complete children's multivitamin without sugar, high fructose corn syrup, gluten, aspartame, or other additives! The individually packaged fine crystal powder melts quickly on the tongue and leaves no yucky aftertaste or mess!
What Makes alternaVites Kids So Special? 
alternaVites Kids touts 17 essential vitamins and minerals specially formulated for children ages 4+. This kid-friendly gluten-free formula comes in two yummy flavors, strawberry bubblegum and raspberry cotton candy. alternaVites Kids contains ZERO grams of sugar and no artificial sweeteners, colors, flavors, or preservatives. In addition, it does not contain animal products or by-products, egg, milk, peanut, tree nuts, wheat, soy, fish or shellfish and is also certified kosher pareve!
Whew, finally a product that doesn't come with a side of 'parental guilt.'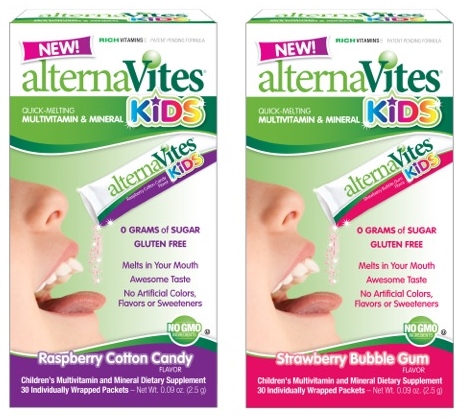 Administering alternaVites Kids is a quick and battle-free process; simply sprinkle the crystal powder slowly onto the tongue, where it melts quickly. You may also empty and mix the individually portioned packets into yogurts, puddings, or smoothies. The possibilities are endless!
With alternaVites Kids, parents have a family-friendly option to ensure their kids are getting a daily dose of vital nutrients!
Get Your $2 OFF Coupon! 
Want to give alternaVites Kids a try? The alternaVites folks are generously providing a $2 OFF Coupon while supplies last! To redeem, simply click the coupon image below to print the coupon!
The Experts Chime In! 
"As a pediatric dentist, I see firsthand the damage that sugar can do to children's teeth. It's hard to hear that my patients take sugary vitamins or gummy vitamins that stick to their teeth, because these can contribute to tooth decay. With alternaVites Kids, there is finally a product that is nutritionally sound, sugarless, and won't get stuck in between their teeth. Even better, it's sweetened with Xylitol, which as a dentist, makes me happy!" – Dr. Sean Adler
"As a registered dietitian, I know how important it is for children to take a daily multivitamin, but as a mom, I know how hard it is to find one that I'm comfortable with and that they don't mind taking. With alternaVites Kids, we're all happy! I know they are getting a comprehensive formula, and kids find it delicious and easy to take." – Ilyse Schapiro, MS, RD, CDN
"My son is on the spectrum. He has a very limited diet and is very sensitive to tastes and textures. This is the first vitamin supplement we've found that he'll take. We mix it with yogurt, and he doesn't even notice. And unlike those gummy things, the alternaVites for Kids doesn't wreak havoc with the caps on his teeth." – Darcy, Mom