Convenient on-the-go food can be good for you and vegan protein can be tasty too!
If you're anything like us, your life is in constant motion. Running off to work, powering through a hectic schedule, and squeezing in some exercise… then doing it all over again. Convenience is a big factor in the foods you select to fuel your body, but so is your health. Orgain® is healthy, organic food on-the-go or any time of day!
Orgain now offers plant-based protein powder and ready-to-drink nutritional shakes that incorporate only the highest quality USDA-certified organic plant proteins. These certified vegan products are also gluten free, soy free, non-GMO, and free of all artificial colors, flavors, and preservatives.
Why are plant-based proteins so beneficial? To start off, plant-based protein powders are easily digestible and hypoallergenic. This heart-healthy form of protein is cholesterol free and offers both key essential and non-essential amino acids. Orgain utilizes proteins derived from both chia and hemp plants, which are rich in essential fatty acids such as ALA (Alpha Linoleic Acid). Plant-based proteins also contain glutamic acid, providing the necessary energy boost for muscle function, increased endurance, and muscle growth support. As you can see, plant-based proteins pack quite the nutritional punch!
Texture complaints are common for protein shakes and powders, especially plant-based formulas. Many brands add artificial sweeteners and other questionable ingredients to help mask these taste and texture issues. Because Orgain is committed to high-quality organic nutrition, their plant-based products use proprietary formulas that provide delicious taste and a smooth no-grit texture using only premium organic ingredients and nothing artificial.
Orgain's innovative products are simply delicious! Feel confident in your nutritional choices and discover two of Orgain's stellar products: plant-based Organic Protein Powder and Organic Vegan Nutritional Shake.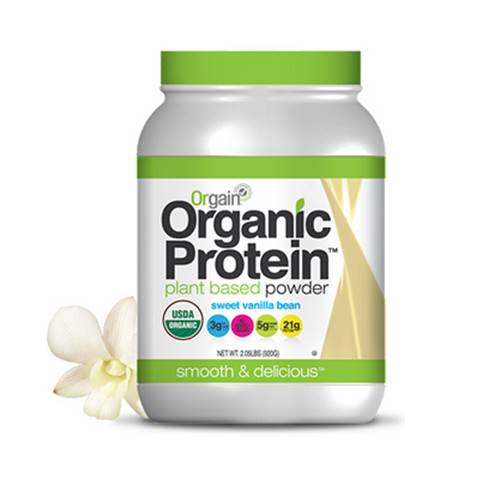 Features: 
Silky texture, no grittiness
Certified vegan
Available in creamy chocolate fudge and sweet vanilla bean flavors
USDA Certified Organic
Dairy free, soy free
21 grams of plant-based, vegan protein
Organic brown rice, hemp, chia, and pea proteins
No added sugar
5g organic fiber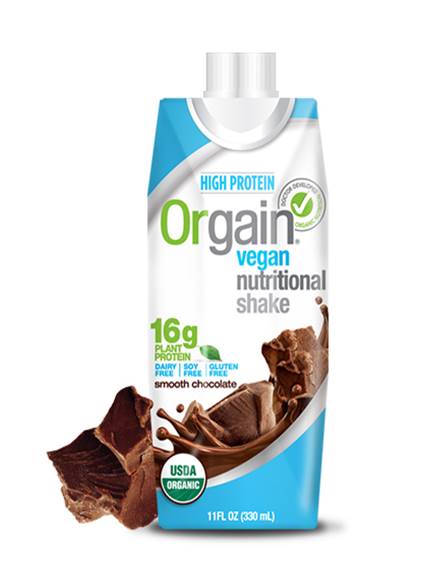 Features: 
Smooth texture, rich taste 
Certified vegan
Available in naturally delicious smooth chocolate and sweet vanilla bean flavors
USDA Certified Organic
Dairy free, soy free
16 grams of organic, plant-based protein
Organic brown rice, hemp, chia, flax
Blend of 10 Organic fruit and veggies*
21 vitamins and minerals
Doctor developed
No caffeine, preservatives, gluten, corn syrup, or saturated fat
This ready-to-drink product is the first organic vegan complete nutritional shake to hit the market. Its fuss-free portability makes it perfect for the backpack, diaper bag, briefcase, or gym bag!
Where Can I Buy Orgain Products? 
Orgain's complete line of great-tasting, wholesome organic nutrition products is available through Orgain's convenient online store. To order from the online store and have Orgain products delivered directly to you, click here.
Orgain is also available via retail locations nationwide and many online retailers. Click the image below for the full list of in-store retailers near you!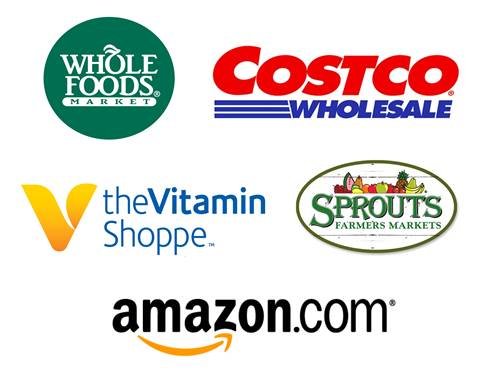 *Orgain is not a replacement for fruits and veggies in one's diet.